Afraid of puncture? Never fear the flat !!
Fully Automatic solution to fix puncture of a Tubeless Tyre !
GrandPitstop's Tubeless Tyre Puncture Repair Kit - Gun helps you to fix punctures in less than a minute.
Mushroom Plug Technology fused with modern day tools gives you freedom to ride without any fear of having Flat Tyre.
Key Features:
Ideal for any Tubeless Tyre- Cars, Motorcycles, Scooties, ATVs etc
DIY, Easy to use – no need for Puncture Guy
Fully Automatic- No additional sweat and efforts
No need to remove tyre for fixing a puncture
Compact enough to join you for long rides
All tools are metallic, hence Durable
Technical Details:
It seals the inner liner and fills the path of the injury – Better Technology
Plugs are symmetric shaped for better sealing
Good enough to seal as big as 5.5mm hole
Does not have any adverse effects on wheel alignment
Inside the Box:
Probe tool
Nozzle
Mushroom Plugs (6)
Reamer tool
Cutter
User Manual
Rubber Cement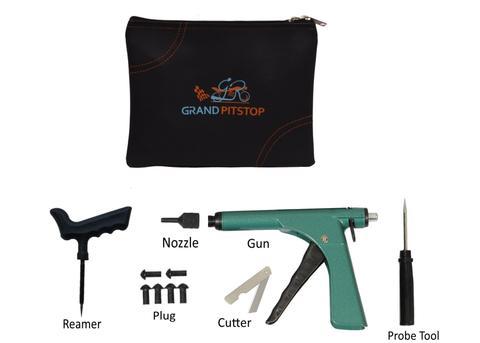 Why better than Conventional??
It is time saving and convenient to use on long road trips.
One person job and users can use it on their own- No visits to service stations
Tyre life is improved making the cost lesser
Provides permanent solution compared to conventional strips
Still not satisfied?? Let's get more technical!
The rubber used for the plugs expands with air pressure so that it can provide complete Sealing.
Plug is 5/16 inches diameter X 3/4 inches length
Gun Kit weighs about 700 grams making it easy to carry
Quick Load and release mechanism
Caution:
Make sure tyre is filled with air and is not completely flat before cutting the extra plug
While cutting extra portion of plug stem above the tyre, make sure that you have left 1-2 mm, this will help in better sealing
Specifications
Best Suitable For Bikes With
Any Tubeless Tyre
Dimensions
25.4 x 2.5 x 21.6 cm
In the Box
Gun, Probe Tool, Nozzle, Mushroom Plugs (6), Reamer, Hexon Cement, Cutter and Instruction Manual
Material
Metal, Rubber, Plastic
SKU
GunK06
Typically Used for
Fixing Tubeless Tyre Puncture
Weight
699 g
Related Products